Cars: Mater-National Deluxe is a work in progress mod by Yoshiman716 for the PC version of Cars: Mater-National Championship, loosely based off of Cars: Hi-Octane Edition , which is also a mod for PC Mater-National. Previously cancelled due to three reasons: Stress in his personal life, lack of time, and it being a stand in for his at the time not functional Hi-Octane game which he fixed during the mod's development, it is now back and hopefully will be completed this time.
About
The goal of the mod is to provide an enhanced experience for Cars: Mater-National Championship, an adding some missing features from the first Cars video game like characters (Sally, the Delinquent Road Hazards gang, etc.) music that didn't make it in, new character models and improved textures, content from the PlayStation 3 and Nintendo Wii versions of Mater-National, etc..
Download
Alpha 2
Alpha 2 was released on 05/01/2018 and there was a decent amount of new content. It fixed some slight issues in Story Mode (with some new ones rising unfortunately), made some more content unlocked by default, made Mia and Fred playable, and added the songs from the first Cars video game that didn't return in Mater-National, plus some new paintjobs and other minor adjustments and bug fixes.
Download: http://www.mediafire.com/file/4ojpyrc3bbmthnc/Cars_MN_DX_Alpha_2.zip
Installation Instructions: Replace the DataPC folder in C:\Program Files (x86)\Steam\steamapps\common\Cars Mater-National (or if you are using a physical copy, then C:\Program Files (x86)\Cars Mater-National) with the one found in the archive. Make sure you back up the one you are replacing in case you don't like the mod.
IMPORTANT NOTE: Read the Credits.txt file in the archive with the DataPC folder.
Known Bugs
Below is a list of known bugs in the current version of the mod. Also below is what each text type means:
Normal text - Will be fixed in the next version
Italic text - May be fixed in a future version, but nothing is for sure
Bold text - Will never and cannot be fixed.
--------------------------------------------------------------------------------------------------------------------------------------------------
-Sometimes Lightning's wheels stop moving mid-event
-Character models from Mater-National PS3 and Race-O-Rama's brakelights can never turn off
-Some character's eyes are off centered and/or go beyond their windshield
-Some characters have animation errors, usually with their eyelids
-Sometimes the camera will not move to the correct position in cutscenes
-In Team Relays #1 and #4, Sally and Guido's icons do not appear on the results screen
-Mater uses the incorrect model in the Building Monster Mater intro cutscene
-The game will crash when Lightning tags another car in Race N' Chases.
-Sally's unused paintjobs (black and blue, pink and white, etc.) do not appear and their respective wheels do not animate
-Fred's second paintjob (stickers paintjob from the first movie's credits sequence) does not appear
Videos
To be added.
Screenshots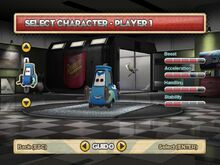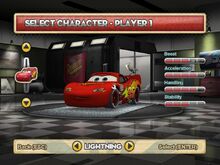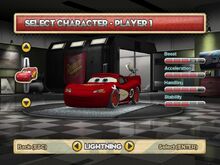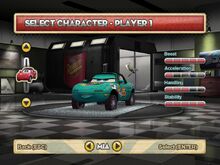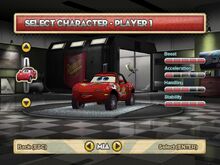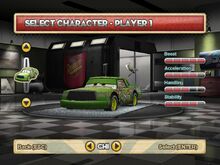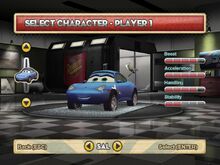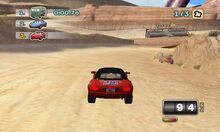 Ad blocker interference detected!
Wikia is a free-to-use site that makes money from advertising. We have a modified experience for viewers using ad blockers

Wikia is not accessible if you've made further modifications. Remove the custom ad blocker rule(s) and the page will load as expected.